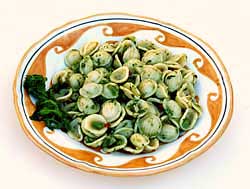 BROCCOLI RABE OR BROCCOLI WITH GARLIC, ANCHOVY AND HOT PEPPER
Orecchiette alla Barese
Puglia
Preparation - Medium
Serves 4
Vegetarian; Q&E
Orecchiette alla barese are always cooked with a sauce made of broccoli rabe or rapini, a type of strongly flavored broccoli - if you can't find broccoli rabe, substitute regular broccoli, but the flavor will not be as sharp and interesting. Orecchiette are a fairly standard variety of dried pasta and available in many supermarkets, but if you can't find them, use cavatelli, farfalle (butterflies), small shells, or fusilli (corkscrews) instead. The preparation is not appropriate for long stringy pasta like spaghetti or linguine.

INGREDIENTS:
2 bunches of broccoli rabe or 2 large heads of broccoli
4 garlic cloves, minced
3 TBS extra-virgin olive oil
6 oil-packed anchovy fillets or to taste
1 tsp hot red pepper flakes or 1 small dried red chili, chopped, seeds and all
1 lb orecchiette, cavatelli or other pasta
2 TBSP half and half or heavy cream
salt and freshly ground black pepper to taste
grated Parmesan or pecorino cheese
2 Frying pans, pasta pot.
CLEAN and coarsely chop the broccoli rabe.

BRING about 1 inch of lightly salted water to a boil in a heavy saucepan. Add the broccoli rabe and cook until it is tender and only a few tablespoons of liquid are left in the bottom of the pan-about 5 to 10 minutes, depending on how finely the vegetable is chopped.Set the pan of broccoli rabe aside, but keep it warm.

IN a separate skillet or sauté pan, gently sauté the garlic in the olive oil until it is soft, then melt in the anchovy fillets by crushing them in the garlicky oil with a fork.Add the red pepper and stir to mix well. Turn the garlic-pepper oil into the broccoli rabe and mix - I use a food processor (mouli) to blend the ingredients.

RETURN to pan, add 2 TBSP half and half or heavy cream - mix well (this enhances taste and texture).

COOK the pasta in lightly salted boiling water until done. Drain the pasta and immediately combine with the sauce (in cooking pan if large enough).

TURN into a warm serving bowl, add pepper, and serve immediately. (You can pass grated cheese at the table.)


Nutritional Data, per portion
Calories   403  Carbohydrate  67g   Saturated Fat        1g  
Protein    16g  Sodium        460mg Monounsaturated Fat  6g 
Fat        9g   Cholesterol   2mg
Source:
The Mediterranean Diet Cookbook
Nancy Harmon Jenkins
Bantam Books



Copyright © 2000,2012 e-rcps.com, All Rights Reserved
Recipes
Basics
Glossary
FAQ
Cookbooks
Tell a friend

Cooking Classes
Cooking classes in the U.S. and Italy.
---
Gastronomy Tours
Tour Wine & Olive oil country and other regions.
---
Links
Links to other sites of related interest.
---
Sources
Where to buy special ingredients and utensils.
---
Ask the Chef
If you don't find your recipe.
---