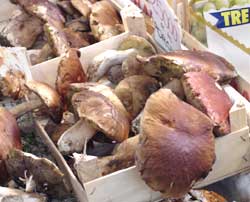 MUSHROOM AND TOMATO PASTA SAUCE
Tagliatelle alla Boscaiola
Preparation - Easy
Prep:

10 min

- Cook:

30 min

- Total:

40 min


Yield:

Serves 4




Vegetarian
Boscaiola means 'woodsman' in Italian; it usually means the sauce contains mushrooms. You can use any mushrooms, not necessarily the Porcini mushrooms shown above.
INGREDIENTS:
4 T good olive oil
3 cloves garlic, finely chopped
10 oz. mushrooms, fresh or dried, soaked
1/2 cup peas, if frozen, defrost
14 oz. tin Italian plum tomatoes
Hot pepper or hot pepper flakes (optional, to taste)
Salt and black pepper
3 or more T Parsley
1/2 Tsp fresh oregano or thyme, (1/4 tsp if dry)
1 lb pasta (fresh if possible: tagliatelle, fettuccine or spaghetti, bucatini, penne)
Large sauté pan, pasta pot
METHOD:
PUT 6 quarts of water to boil for the pasta.
IN 2 T of the olive oil, sauté the garlic (from light gold to light brown, depending on your taste). Add the hot pepper at this stage if you choose to use it.
ADD the tomatoes with the juice in the can. If they are whole, crush with the back of a wooden spoon or spatula. Add salt and pepper to taste. Cook on fairly high heat until the sauce is somewhat reduced, but still liquid, about 10 minutes.
WHILE the tomatoes are cooking, clean and dry the mushrooms with a damp cloth. Slice them to the thickness of a wooden match.In a separate pan with the remaining T of olive oil, add the mushrooms and a pinch of salt, cover, simmer gently on low heat for about five minutes.
MUSHROOMS should give off enough moisture for cooking. Add a T of parsley and the oregano or thyme, set aside and keep warm.
ADD the peas.
ADD mixture to tomato sauce, stir and simmer very gently for 5 minutes.
ADD pasta to mixture in pan, toss well seasoning with salt and pepper.
COOK the pasta to taste, usually slightly 'al dente' - "to the tooth", or a bit chewy or resistant to your bite (not crunchy). Drain, pour into heated serving bowl.
POUR the tomatoes over the pasta, stir. Add the mushrooms and stir again. Season to taste with salt (carefully) and freshly ground black pepper, garnish with a pinch of parsley, and serve.



Copyright © 2000,2012 e-rcps.com, All Rights Reserved