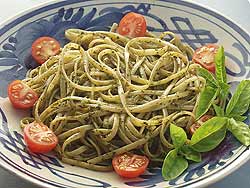 QUICK & EASY PESTO SAUCE RECIPE
Pesto
Liguria
Preparation - Easy
Prep:

15 min

- Cook:

15 min

- Total:

30 min


Yield:

Serves 6




Vegetarian, Q&E
Use best ingredients (fresh basil, good olive oil and cheese) - remember that different basils have different tastes. More delicate if you add a few tablespoons of butter or heavy cream. Refrigerates for a few days, or you can prepare to cheese point and freeze for a few months. Practice improves it.
INGREDIENTS:
4 cups tightly packed fresh basil leaves, washed, dried on paper towels
1/3 cup pine nuts (or walnuts) or mixed - toasted (optional)
1 tsp salt, or to taste
1/2 cup extra virgin olive oil, more to taste
2 cloves garlic, peeled and halved, more or less to taste
1/4 cup freshly grated Parmesan
1/4 cup freshly grated pecorino cheese or all Parmesan or pecorino
1 package (16 oz) linguine, trenette, spaghetti or farfalle
Blender, pasta post, large serving bowl.


METHOD:
OPTIONAL: TOAST pine nuts (not walnuts) in small heavy pan over low heat moving around, stirring or shaking pan as they can burn from one moment to the next.

START the pasta.
PUT basil, pine or walnuts, salt, garlic and olive oil in blender.
BLEND at high speed till smooth. You may need to stop the blender a few times to scrape down the sides.
YOU can either add the cheese at this point and blend a few seconds more, or remove from blender and mix in the cheese by hand.
DRAIN the pasta, put in warm serving bowl, and mix in the pesto sauce while still hot.
WHENEVER you prepare pesto for pasta, save some of the water in which the pasta has cooked and add a tablespoon or two to the sauce before tossing it with the pasta.
IF refrigerating, place in jar or container covering exposed surface of pesto sauce with a film of olive oil (pesto turns very dark otherwise), cover with a tight fitting lid. The same procedure applies to freezing pesto.



Copyright © 2000,2012 e-rcps.com, All Rights Reserved
Recipes
Basics
Glossary
FAQ
Cookbooks
Tell a friend

Cooking Classes
Cooking classes in the U.S. and Italy.
---
Gastronomy Tours
Tour Wine & Olive oil country and other regions.
---
Links
Links to other sites of related interest.
---
Sources
Where to buy special ingredients and utensils.
---
Ask the Chef
If you don't find your recipe.
---