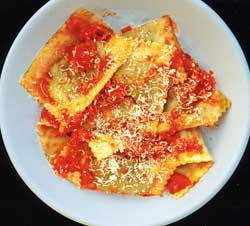 SIMPLE TOMATO SAUCE RECIPE
Sugo di pomodoro
Preparation - Medium
Prep: 10; Cook: 35
Serves 4 Vegetarian
This simple, light, tasty tomato sauce is good on any pasta, ravioli, etc. All the items marked 'optional' are departures from the basic sauce. Easier to peel the tomatoes if you immerse in boiling water for about 1 1/2 minutes. Allow to cool.

INGREDIENTS:
1 medium onion, chopped
1 carrot, diced
1 rib of celery, with leaves, chopped
2 T good olive oil
5 leaves of basil, torn, not cut
1 pound (2 or 3 medium) fresh, ripe tomatoes - skinned, seeded and drained, or 1 14 oz tin of Italian plum tomatoes
OPTIONAL, ADDITIONAL OR IN PLACE OF:
1/2 dried chili pepper, pepperoncino - to taste
1 clove of garlic, minced
2 - 3 sprigs of parsley, chopped
IN a saucepan with the olive oil, saute the carrot, onion, celery and whatever optionals until transparent, about 5 minutes on medium heat.

ADD the basil leaves, then the tomato. Stir.

SIMMER on low heat until the sauce thickens - about half an hour. Do not add water if it becomes too dry, add a bit of olive oil.

SERVE on the pasta of your choice. Accompany with Parmesan or Pecorino cheese.




Copyright © 2000,2012 e-rcps.com, All Rights Reserved
Recipes
Basics
Glossary
FAQ
Cookbooks
Tell a friend

Cooking Classes
Cooking classes in the U.S. and Italy.
---
Gastronomy Tours
Tour Wine & Olive oil country and other regions.
---
Links
Links to other sites of related interest.
---
Sources
Where to buy special ingredients and utensils.
---
Ask the Chef
If you don't find your recipe.
---