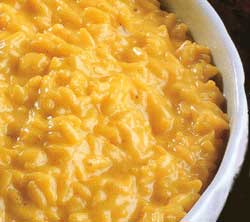 RICE MILAN STYLE
Lombardy - Risotto alla Milanese

Preparation - Difficult; Prep:20, Cook:40
Serves 6

Risotto dates back to the Renaissance and is a descendant of Spanish paella. The dish is said to have originated in 1535, when Charles V made his son Philip duke of Milan, beginning what was to be nearly two centuries of Spanish rule. Saffron added to the rice turns it a deep yellow and adds a subtle yet pungent flavor. Bone marrow is essential for a good risotto. Many butchers give it away for nothing. You can freeze the marrow in small quantities and use it as you need for risotto.
The rice for risotto should be Italian superfine Arborio rice, slightly moist and al dente when done. The rice will continue to cook after it has been removed from the flame, so be ready to add the butter and freshly grated Parmesan cheese immediately.The entire process of cooking the risotto takes roughly 45 minutes and requires your full attention.In Italy we say "Il riso nasce nell'acqua e muore nel vino," meaning rice is born in water and dies in wine, so have a good dry white wine ready to serve with the risotto.
INGREDIENTS:
6 T unsalted butter
1 1/2 oz bone marrow, finely chopped
1/2 onion minced
1 lb Arborio rice
3/4 cup dry white wine
1/2 to 1 teaspoon saffron threads
about 5 cups simmering beef or chicken broth
6 T freshly grated Parmesan cheese, plus additional cheese for serving
freshly ground black pepper
Heavy pot or casserole with tight-fitting lid.


METHOD:
MELT 4 tablespoons of the butter with the marrow in a saucepan large enough to cook the rice, making sure the marrow dissolves.Add the onion and sauté gently until soft and transparent, about 5 minutes.
ADD the rice and stir until every grain is coated and shiny, abut 3 or 4 minutes.
ADD the wine and keep stirring until it evaporates.Dissolve the saffron in 2 tablespoons of the hot broth and set aside. Add the remaining hot broth to the rice, 1/2 cup at a time, stirring constantly, waiting until the broth is absorbed before adding more. The risotto should always be moist. After about 15 minutes, taste the rice. It should be done al dente.
ADD the saffron, stir, and cook for 3 minutes, adding broth as necessary and stirring constantly.
REMOVE from the heat when still moist and stir in the remaining 2 tablespoons butter and the 6 tablespoons Parmesan.
COVER tightly and allow the risotto to set for 3 minutes.Turn out onto a heated serving dish and serve with freshly ground black pepper and more Parmesan as needed.
Note: The risotto should be, as they say in Italy, 'al onda', or wavy. It should be served slightly moist, not dry.
Source:
Italian Cooking in the Grand Tradition
Jo Bettoja and Anna Maria Cornetto
The Dial Press



Copyright © 2000,2012 e-rcps.com, All Rights Reserved
Recipes
Basics
Glossary
FAQ
Cookbooks
Tell a friend

Cooking Classes
Cooking classes in the U.S. and Italy.
---
Gastronomy Tours
Tour Wine & Olive oil country and other regions.
---
Links
Links to other sites of related interest.
---
Sources
Where to buy special ingredients and utensils.
---
Ask the Chef
If you don't find your recipe.
---