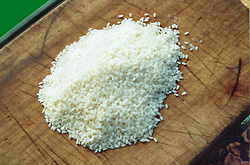 MUSHROOMS WITH RICE
Risotto ai funghi
Serves 6
INGREDIENTS;
5 T butter
1 medium onion, finely chopped
1 lb mushrooms, cleaned and thinly sliced
1/2 cup dry Italian white wine
1 t fresh thyme or oregano, finely chopped
2 cups Arborio rice
5 to 6 cups chicken broth
1 cup freshly grated Parmesan cheese
Frying pan, covered saucepan.
METHOD:
In a saucepan, bring the broth to a simmer and keep hot over very low heat.
Sauté onion in the melted butter in a heavy saucepan over medium heat until translucent.
Add the mushrooms and the herbs and sauté for a minute or two.
Add the rice, and continue cooking, stirring for 3 minutes until well coated with the fat.
Add the wine and simmer, stirring constantly, till absorbed by rice, about 2 minutes.
Start adding the stock a cup at a time as per instructions for risotto till done.
Turn off the heat. Add half the Parmesan, stir, cover and let sit for 2 minutes.
Place on a warm serving platter.
Pass the rest of the cheese at table.



Copyright © 2000,2012 e-rcps.com, All Rights Reserved