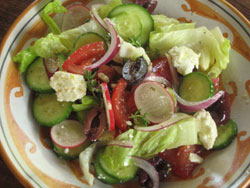 GREEK COUNTRY SALAD RECIPE
Khoriatike
Prep: 15 mins; Easy
Refreshing and satisfying summer salad.
2 medium sized Persian cucumbers, sliced, about 1 cup
1 cup tomatoes coarse dice
1/4 medium sized red onion thinly sliced
1/4 tsp dry oregano or thyme or a mix or 1/2 tsp fresh
1/2 inch jalapeno finely chopped
1 - 2 radishes thinly sliced
10 or more seedless Kalamata olives cut in half
4 romaine lettuce leaves in pieces
3/4 cup feta in small pieces
1 TBS Lemon juice
3 TBS Olive oil
Salt
Large ceramic or glass (non-reactive) mixing bowl.
TOSS cucumbers, tomatoes, onion, oregano/thyme, jalapeno, radishes and olives in large glass or ceramic bowl.
ADD lettuce, cheese, lemon juice, olive oil and salt and toss again.
TASTE and adjust ingredients, toss again.
SERVE with good French, Italian or pita/Arabic bread.
<<

PREVIOUS

- BROWSE RECIPES -

NEXT

>>



Copyright © 2000,2012 e-rcps.com, All Rights Reserved
Recipes
Basics
Glossary
FAQ
Cookbooks
Tell a friend

Cooking Classes
Cooking classes in the U.S. and Italy.
---
Gastronomy Tours
Tour Wine & Olive oil country and other regions.
---
Links
Links to other sites of related interest.
---
Sources
Where to buy special ingredients and utensils.
---
Ask the Chef
If you don't find your recipe.
---