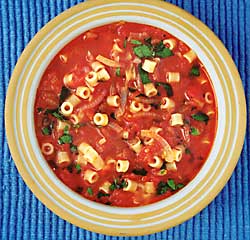 TOMATO SOUP WITH PASTA RECIPE
Calabria
Preparation - Easy; Prep: 15 - Cook: 45
Serves 4 - 5
Delicious, especially with fresh, ripe tomatoes.
INGREDIENTS:
1/3 cup olive oil
2 garlic cloves, bruised
5 ripe tomatoes, skinned and coarsely chopped, or 1 14/15 oz tin plum tomatoes, coarsely chopped
1 medium onion, thinly sliced
2 tbsp chopped parsley
salt and freshly ground black pepper
5 oz ditalini or other small tubular pasta
freshly grated Parmesan cheese
Saucepan.


METHOD:
HEAT the oil in a saucepan, preferably earthenware, and gently sauté the garlic until golden. Remove and discard the garlic.
ADD the tomatoes, onion and half the chopped parsley. Sauté gently for about 10 minutes, stirring frequently.
ADD 7 cups of water, salt and plenty of ground pepper. Bring to a boil and cook, uncovered, over very low heat for about 20 minutes.
RAISE the heat and drop in the pasta. Cook until al dente and then add the remaining parsley before serving.
PASS Parmesan at the table.

AMAZON BEST SELLER



Copyright © 2000,2012 e-rcps.com, All Rights Reserved
Recipes
Basics
Glossary
FAQ
Cookbooks
Tell a friend

Cooking Classes
Cooking classes in the U.S. and Italy.
---
Gastronomy Tours
Tour Wine & Olive oil country and other regions.
---
Links
Links to other sites of related interest.
---
Sources
Where to buy special ingredients and utensils.
---
Ask the Chef
If you don't find your recipe.
---