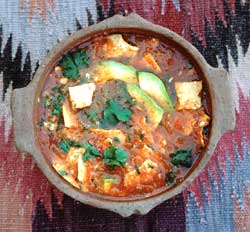 TORTILLA SOUP RECIPE
Sopa de Tortilla

Mexico
Preparation - Medium; Prep: 20 - Cook: 40
Serves 4

This very popular soup has as many variations as there are cooks. All seem to have some 'corn' taste, some 'smoky' taste, onion, cheese and of course, some kind of hot pepper. Use the variations depending on the ingredients at hand, and your taste.
INGREDIENTS:
8 dried corn tortillas, or tortilla chips, about 2 cups, coarsley crumbled. See variation below.
1 tablespoon of oil or butter
1 medium onion, chopped fine
6 cloves garlic, minced
1 ear of fresh corn, cleaned (optional but good if you have to use plain flour tortillas), OR 1 cup drained canned corn.
1/2 chipotle chili pepper, packed in adobo sauce, chopped (see variation below) - more to taste - OR 1/2 tsp (more to taste, hot, so be careful) chipotle paste
2 medium tomatoes/ small tin canned tomatoes
3 tablespoons of tomato paste
4 cups chicken, meat or vegetable broth
1 cup of grated cheddar or jack cheese
1/2 cup cilantro (leaf coriander), chopped
1 avocado in 1/2 inch cubes or thin slices (optional)
salt and freshly ground pepper to taste
sour cream (optional)
Large saucepan. OPT: charcoal grill, blender.


METHOD:
IF possible, prepare at least one of the vegetable ingredients by grilling on charcoal or toasting on low heat in a frying pan on the top of the stove. Cook slowly so that the vegetable is soft and the skin is gently browned/blackened in places. This could include the tomatoes, the corn, and/or if you don't have chipotle chillies packed in adobo sauce, jalapeno or other peppers. This will impart a vital 'smokey' taste to the soup.
IF you don't have tortilla chips, you can cut dried (leave them out) corn or flour tortillas in strips and fry them in oil until lightly browned.
IN a large saucepan gently sauté the onions on low heat for a minute or two, add the minced garlic and allow to cook slowly on low heat for about ten minutes, until transparent but not browned.
ADD the tomatoes/tomato paste (you can use all tomato paste - 6 tablespoons, or mix with grilled fresh or canned tomatoes, about a cup, or use all fresh or canned tomatoes, about 2 cups.
ADD the chili pepper. These can be hot, so taste before adding. You can always add heat, but it is hard to get rid of once in the soup. Mix well with the onions and continue cooking on low heat, stirring until well blended. VARIATION: Grill jalapeno or other chili pepper on charcoal, under a broiler or in a pan until soft and flecked with black.
ADD corn (drained if from can).
ADD the broth, stir and allow to reduce slightly, about ten minutes. Taste and add salt if needed. (prepared ingredients like tomato paste, packed chipotle chilis and broth may be salty).
DURING this time, if you like a thicker soup, you can measure a few cups of the soup into a blender and liquify the solid ingredients. BE CAREFUL - the soup is hot and if the top of the blender is not firmly on and held in place, you can have hot soup all over the kitchen. Taste for seasoning, add salt and pepper if necessary.
WHEN ready to serve, measure some partially crumbled tortilla chips, grated cheese, cilantro and optional avocado into the soup bowls. Add the soup and garnish with additional cilantro.
SERVE with side plates of extra dried tortilla chips, grated cheese and sour cream.
AMAZON BEST SELLER



Copyright © 2000,2012 e-rcps.com, All Rights Reserved
Recipes
Basics
Glossary
FAQ
Cookbooks
Tell a friend

Cooking Classes
Cooking classes in the U.S. and Italy.
---
Gastronomy Tours
Tour Wine & Olive oil country and other regions.
---
Links
Links to other sites of related interest.
---
Sources
Where to buy special ingredients and utensils.
---
Ask the Chef
If you don't find your recipe.
---