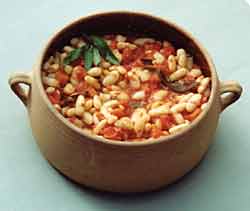 TUSCAN BEANS IN TOMATO SAUCE
Fagioli all'uccelletto
Tuscany
Preparation - Easy, beans soak overnight.
Serves 6
This is perhaps Florence's most famous dish. Some include Italian sausage.
INGREDIENTS:
1 pound small white cannellini or great northern beans, soaked overnight
2 sprigs of sage
6 tablespoons olive oil
salt & pepper to taste
2 cloves garlic
5 ripe tomatoes, peeled and chopped, or 1 14 oz can tinned italian plum tomatoes


METHOD:
DRAIN the beans and simmer in fresh water to cover, with 1 sprig of sage and 1 tablespoon olive oil, for about 1 1/2 hours, or until tender, adding salt when the beans begin to soften.
IN a separate pan (large enough to hold the beans) heat the remaining oil on low heat with the garlic and the rest of the sage so that the flavors infuse, but do not brown.
ADD the tomatoes and simmer for 10 minutes, then add the drained beans, season with salt and pepper, and cook for another 15 minutes or so. There should be a good amount of sauce.



Copyright © 2000,2012 e-rcps.com, All Rights Reserved
Recipes
Basics
Glossary
FAQ
Cookbooks
Tell a friend

Cooking Classes
Cooking classes in the U.S. and Italy.
---
Gastronomy Tours
Tour Wine & Olive oil country and other regions.
---
Links
Links to other sites of related interest.
---
Sources
Where to buy special ingredients and utensils.
---
Ask the Chef
If you don't find your recipe.
---