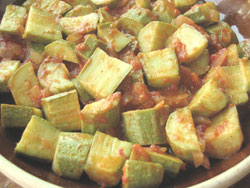 EASY ZUCCHINI AND TOMATOES RECIPE
Prep: 10; Cook: 25
Preparation - Easy
Serves 4 (side dish)
Vegetarian, Vegan
We cook this with our own canned tomatoes.
INGREDIENTS:
1 lb zucchini, cut in 1 inch pieces
1 cup fresh or canned tomatoes (delicious with fresh!)
1/3 cup finely chopped onions
3 TBS olive oil
Pinch hot pepper or hot pepper flakes
1/4 tsp salt and freshly ground pepper to taste
Heavy saucepan or frying pan with cover.


METHOD:
HEAT olive oil in saucepan
ADD onions and sauté till transparent (about 5 minutes) over medium heat
ADD the zucchini
TOSS with onions
ADD the tomatoes, pepper or red pepper flakes, and salt
COVER, simmer gently for 10-15 minutes
SERVE at room temperature
Cookbook we like:



Copyright © 2000,2012 e-rcps.com, All Rights Reserved
Recipes
Basics
Glossary
FAQ
Cookbooks
Tell a friend

Cooking Classes
Cooking classes in the U.S. and Italy.
---
Gastronomy Tours
Tour Wine & Olive oil country and other regions.
---
Links
Links to other sites of related interest.
---
Sources
Where to buy special ingredients and utensils.
---
Ask the Chef
If you don't find your recipe.
---