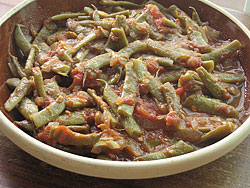 GREEN BEANS AND TOMATOES
Prep:15, Cook:40
Preparation - Easy
Serves 4
Vegetarian, Vegan
Very tasty with fresh or home-canned tomatoes.
1 lb green beans (broader Italian green beans - Romano, Runner - are tastier)
1/2 cup finely chopped onion
1 1/2 cup tomatoes, fresh or canned
3 TBS olive oil
1/2 tsp cinnamon or allspice
3/4 cup water
Pinch of hot pepper flakes or freshly ground pepper
1/4 tsp salt and freshly ground pepper to taste
Saucepan, skillet or frying pan with cover.
WASH and break green beans into bite-size pieces.
HEAT olive oil in a saucepan.
ADD onions and sauté over medium heat till transparent, about 5 minutes.
ADD green beans and sauté a further 5 minutes.
ADD tomatoes, water, salt and spice.
BRING to a simmer, cover and cook till beans achieve desired tenderness, about 1/2 an hour for Italian green beans, less for normal green beans.
Cookbook we like:



Copyright © 2000,2012 e-rcps.com, All Rights Reserved
Recipes
Basics
Glossary
FAQ
Cookbooks
Tell a friend

Cooking Classes
Cooking classes in the U.S. and Italy.
---
Gastronomy Tours
Tour Wine & Olive oil country and other regions.
---
Links
Links to other sites of related interest.
---
Sources
Where to buy special ingredients and utensils.
---
Ask the Chef
If you don't find your recipe.
---