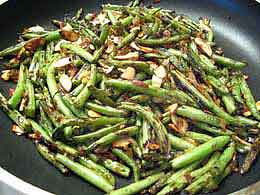 GREEN BEANS SAUTÉED WITH ALMONDS
Prep:10, Cook:60
Preparation - Medium
Serves 4 - Double for 8
A family favorite.
1 lb young tender green beans
1/2 medium onion finely chopped
4 cloves garlic finely minced or passed through a garlic press
1/2 cup sliced almonds
2 TBSP Balsamic Vinegar
1/2 tsp Salt
1/4 tsp Freshly ground black pepper
1 large and 1 small sautée pans
HEAT 2 TBS olive oil in large heavy skillet.
ADD green beans and sauté over medium heat turning frequently till done to taste, should be blackened in sections.
REMOVE Beans.
ADD 1 TBS olive to pan.
ADD onion, sauté till light brown.
ADD garlic and sauté further minute or two till garlic browned.
TOAST almonds in a separate small heavy skilled.
RETURN beans to skillet with the onions and garlic.
SEASON w/salt and pepper.
ADD 2 TBS balsamic vinegar.
TOSS well
ADD the toasted almonds
TOSS lightly and serve.
Cookbook we like:



Copyright © 2000,2012 e-rcps.com, All Rights Reserved
Recipes
Basics
Glossary
FAQ
Cookbooks
Tell a friend

Cooking Classes
Cooking classes in the U.S. and Italy.
---
Gastronomy Tours
Tour Wine & Olive oil country and other regions.
---
Links
Links to other sites of related interest.
---
Sources
Where to buy special ingredients and utensils.
---
Ask the Chef
If you don't find your recipe.
---