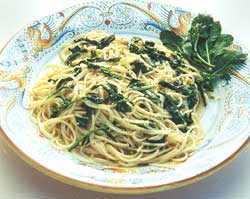 SPAGHETTI WITH ARUGULA AND CREAM
Spaghetti alla rucola
Preparation - Easy
Serves 4
Arugula or rocket in English, rucola or rughetta in Italian can be found growing wild in fields but is now widely cultivated and easily found in local markets. What we buy is generally the cultivated sort with a milder flavor.

INGREDIENTS:

1 large bunch arugula (rucola), washed and torn into large pieces
3/4 cup heavy cream
2 T butter
1/4 cup freshly grated Parmesan cheese
Salt and freshly ground black pepper
1 lb spaghetti
MELT the butter in a saucepan large enough to eventually hold all the ingredients.

ADD the arugula, and cook over low heat stirring frequently with a wooden spoon till it wilts, about 5 minutes.Season to taste with salt and pepper.

STIR in the heavy cream and the Parmesan and simmer over very low heat till sauce has thickened slightly.

MEANWHILE cook the pasta al dente, drain and add to saucepan with the sauce.Mix well and serve immediately onto pre-heated plates.

PASS extra Parmesan cheese at table if you wish.



Copyright © 2000,2012 e-rcps.com, All Rights Reserved
Recipes
Basics
Glossary
FAQ
Cookbooks
Tell a friend

Cooking Classes
Cooking classes in the U.S. and Italy.
---
Gastronomy Tours
Tour Wine & Olive oil country and other regions.
---
Links
Links to other sites of related interest.
---
Sources
Where to buy special ingredients and utensils.
---
Ask the Chef
If you don't find your recipe.
---