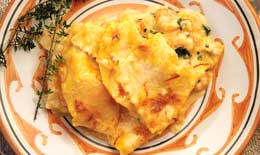 SEAFOOD LASAGNA - SHRIMP, CRAB AND SCALLOPS IN WHITE SAUCE
Preparation - Medium
Serves 4 - 6
A delicious dish that can be prepared ahead.
INGREDIENTS:
1 lb shrimp (2 cups) medium size (frozen shrimp, should be thoroughly defrosted and dried off on paper towels before sautéeing) - you can also use crab, scallops, etc.
1 garlic clove, minced
3 scallions cut in 1/2 inch pieces (greens included)
2 T parsley, chopped
1 T butter
1 1/2 cups béchamel (when making sauce use only 1 cup milk)
1/4 cup heavy cream
1/2 cup dry white wine
few threads saffron
cayenne pepper, (optional, to taste)
3/4 cup Fontina, provolone and mozzarella cheese mix , shredded
1/2 cup freshly grated pecorino or Parmesan cheese
8 lasagna sheets, cooked 'al dente' (we have not had success with pre-cooked)
salt and ground black pepper
Saucepan (béchamel), frying pan, pasta pot, 8" by 10" baking dish or round pie pan.


METHOD:
PREHEAT oven to 375 deg. F.
IN a saucepan, melt 1 T of the butter, sauté the garlic until transparent - do not brown or burn.
ADD the shrimp and toss over high heat for 1-2 minutes.
ADD scallions and parsley, stir and continue cooking till shrimp lose their transparency.
REMOVE from heat and set aside.
PREPARE the bechamel using just 1 cup of milk as you will be adding the cream and white wine to it.
WHEN béchamel is ready, stir in the cream, wine, saffron,cayenne and salt and pepper to taste, blend thoroughly and remove the sauce from the heat.
SPREAD about a third of the sauce over the bottom of an 8 x 10 or round pie pan.
SPRINKLE 1/2 the cheese mixture Fontina/mozzarella over the sauce.
SCATTER about half the shellfish evenly over the cheese.
COVER with half the lasagna sheets. Repeat the layers finishing with the last sheets of lasagna.
COVER with the remaining sauce and Parmesan and a few threads of saffron.
The layers, from the bottom:
Sauce
Cheese
Seafood
Lasagna
Sauce
Cheese
Seafood
Lasagna
Sauce
Parmesan (and some ground black pepper if you wish)
BAKE for 30-40 minutes or until the topping is golden brown (keep and eye on it, you don't want the top to burn).
Let stand for about 10 minutes before serving.
Lo Chef



Copyright © 2000,2012 e-rcps.com, All Rights Reserved
Recipes
Basics
Glossary
FAQ
Cookbooks
Tell a friend

Cooking Classes
Cooking classes in the U.S. and Italy.
---
Gastronomy Tours
Tour Wine & Olive oil country and other regions.
---
Links
Links to other sites of related interest.
---
Sources
Where to buy special ingredients and utensils.
---
Ask the Chef
If you don't find your recipe.
---