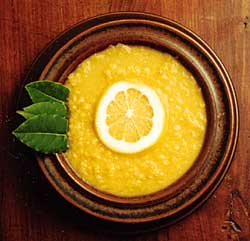 RED OR ORANGE LENTIL SOUP RECIPE
Zuppa con lentiche
Preparation - Easy; Prep: 20 - Cook: 40
Serves 4
A simple, delicious soup for any season.
INGREDIENTS:
2 cups Red (orange) lentils or dahl
7 cups water
2 medium onions, chopped
3 TBSP olive oil
2 TBSP or more ground cumin
1 bay leaf broken in 2 or 3 pieces
Salt
1/3 cup lemon juice or to taste
cilantro (optional) chopped
Large, heavy saucepan.


METHOD:
Peel and chop onion.
In a large saucepan heat olive oil.
Add onions and sauté till transparent. About 5 minutes.
Rinse off lentils and quickly place in large saucepan with water (otherwise lentils tend to clump).
Bring to a boil, reduce heat till you have a gentle simmer.
Add the cumin and the bay leaf.
Simmer for approximately 20 minutes stirring occasionally.
You might need to add water to keep mixture "soupy".
Taste, and cook till lentils are tender.
Add lemon juice and salt.
Simmer a few minutes more.
Serve.
AMAZON BEST SELLER



Copyright © 2000,2012 e-rcps.com, All Rights Reserved
Recipes
Basics
Glossary
FAQ
Cookbooks
Tell a friend

Cooking Classes
Cooking classes in the U.S. and Italy.
---
Gastronomy Tours
Tour Wine & Olive oil country and other regions.
---
Links
Links to other sites of related interest.
---
Sources
Where to buy special ingredients and utensils.
---
Ask the Chef
If you don't find your recipe.
---