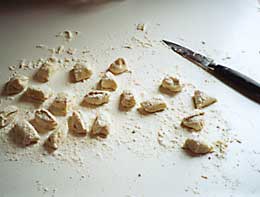 GNOCCHI WITH INSTANT POTATOES
Preparation - Easy
Prep & Cook: about 20 minutes
Serves 2
A quick and easy version of gnocchi.
This recipe doubles or triples and works well with a s simple sauce like simple tomato sauce, butter and sage, etc.
INGREDIENTS:
2/3 cup dry potato buds for instant mashed potatoes
2/3 cup boiling water
1 egg, room temperature, lightly beaten with a fork
1/2 teaspoon salt
1 1/2 cups all-purpose flour
Mixing bowl, saucepan, work surface.


METHOD:
PUT the potato flakes or buds in a medium-size bowl. Add the boiling water; stir until blended. Let cool.
FOLD in the egg and salt with a wooden or plastic spoon or spatula.
ADD flour slowly, folding with the spatula, until you have a fairly firm dough that doesn't stick to the bowl.
TURN dough out onto a well floured surface and knead lightly into a ball. You want just be able to work with the mixture without it sticking unduly - but too much flour will result in gnocchi that are more lead than light.


CUT dough in half.
ROLL each half into a long cylinder about the thickness of your thumb. Cut into bite-size pieces. You can dust lightly with flour or semolina and set aside for a few hours.
TO COOK - put 6 - 8 gnocchi in a few quarts of boiling, salted water (too many at once interferes in the cooking process). As the gnocchi rise to the top of the pot, remove them with a slotted spoon and put them in a sieve over a plate to drain further until you are ready to serve. Repeat until all are cooked.
YOU can eat these gnocchi with butter or good olive oil, a grind of black pepper and some Parmesan cheese, or serve with a sauce like:



Copyright © 2000,2012 e-rcps.com, All Rights Reserved
Recipes
Basics
Glossary
FAQ
Cookbooks
Tell a friend

Cooking Classes
Cooking classes in the U.S. and Italy.
---
Gastronomy Tours
Tour Wine & Olive oil country and other regions.
---
Links
Links to other sites of related interest.
---
Sources
Where to buy special ingredients and utensils.
---
Ask the Chef
If you don't find your recipe.
---