ABOUT RISOTTO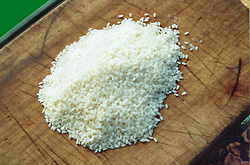 Risotto
1. Use a short grained rice such as the Italian Arborio, Vialone or Carnaroli.

2. Cook to your taste - risotto can range from almost crunchy to very creamy. You control this by slow cooking and adding small amounts of liquid over time, tasting the rice until it has attained the texture you seek.
Rice is to the North as pasta is to the South. It is said that Lombardy's Milan is where the first classic risotto was prepared. And the most widely known, Risotto alla Milanese, is from here.

The Po River plain in the region of Lombardy is ideal for growing rice, producing several kinds, ordinario, semifino, fino and superfino.

Superfino is perfect for risottos and vialone, carnaroli, Roma and arborio are the best varieties of superfino, with arborio the most widely used in the preparation of risotto, as the grains are less likely to break during cooking and the rice absorbs a lot of liquid while retaining a firmness and a bite.

It is important to use appropriate rice for a risotto: Italian risotto is quite different from rice, as we know it. It is a dish in itself. Rarely served with meat, chicken, pork or fish. An exception, risotto alla Milanese served with osso bucco.

Normally served as a first course, risotto can also be a main course - practically any ingredient, meat, fish, fowl, herb, vegetable, cheese, or sausage can be added to a risotto to flavor it. However, the basic method for preparing risotto is the same. To absorb a little broth at a time till is reaches a creamy consistency, tender grains with slight chewiness.

The idea is to "insaporire" the rice, to flavor it with the ingredients of choice.
Once you get the method down, risotto is quite simple to prepare if a little time consuming. In the north butter is used in the preparation of risotto while in the south it is olive oil.

Bring the broth to a simmer in a saucepan, reduce the heat and keep hot throughout the cooking process.

Gently sauté the onion, carrot etc. in fat till light gold in color, usually about 10 minutes.
Add the rice, stir and sauté for a couple of minutes until well coated with the fat.

Do not allow the rice color or turn brown.
If wine is part of the recipe add at this point and cook over medium heat, stirring constantly till absorbed by the rice. About one or two minutes.

At first add one cup of the hot broth, stirring continuously as it cooks over medium heat, making sure to loosen the rice from the sides and bottom of the pan. Use a wooden fork, which is less likely to break the grains of rice than a spoon. The rice should cook at a steady lively simmer. Now add half a cup of the broth at a time as it is absorbed, lessening the amount of liquid added as you go along so as not to overcook the rice. The rice must cook at exactly the right heat, not too low and not too high.
When the rice has cooked for 20 to 25 minutes, test for doneness. The rice is ready when it is al dente, with a slight 'bite' or chewiness to it, tender and creamy but not mushy or sticky.

Add some butter and Parmesan cheese, let sit for 2 minutes, stir one last time and serve immediately... risotto must be served as soon as it is ready.



Copyright © 2000,2012 e-rcps.com, All Rights Reserved
Recipes
Basics
Glossary
FAQ
Cookbooks
Tell a friend

Cooking Classes
Cooking classes in the U.S. and Italy.
---
Gastronomy Tours
Tour Wine & Olive oil country and other regions.
---
Links
Links to other sites of related interest.
---
Sources
Where to buy special ingredients and utensils.
---
Ask the Chef
If you don't find your recipe.
---