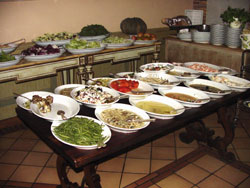 INTRODUCTION TO ANTIPASTO OR HORS D'OEUVRES
Antipasti
Antipasto means 'before the main course' and so it is in Italy. An antipasto can be hot or cold, simple as a bruschetta or as complicated as carcioffi alla Romana or carcioffi fritti.
Traditionally an impressively varied antipasto is set out at weddings, baptisms, first communion, birthdays; parties, or any special occasion. A good reason to sit for hours eating, animated conversation, as everyone tends to talk at once, and sipping wine.
At home, an antipasto is more likely to consist of bruschetta, or prosciutto (salt-cured ham) and melon or salami with fresh figs which is a wonderful mix of sweet and salty.
Another popular antipasto, carcioffi alla Romana and carcioffi fritti (fried artichoke) is served during artichoke season for Sunday lunch when family and friends gather late in the afternoon. In cooler weather crostini with chicken liver are often served.
Salads, frittatas (omelets), cold sea food salad, tinned smoked oysters garnished with a sliver of lemon and parsley, crostini, hot slices of focaccia are also popular.
The majority of antipasti are usually served cold and can be prepared ahead of time.
A rich assortment of fresh vegetables served with a hot or warm olive oil dip bagna cauda or a cold olive oil dip pinzimonio is perfect for large or small gatherings.
The easiest and most often served antipasti are bruschetta and crostini. Both are slices of bread, toasted and topped with tasty ingredients. However, crostini can be made of either white bread or Italian bread, while bruschetta is always country bread. Crostini are toasted, bruschetta is grilled. Toppings for both are usually added after toasting, the exception being when cheese is used as a topping for crostini. Bruschette are usually toasted and then rubbed with a clove of garlic, dribbled with olive oil and sprinkled with salt. A most delightful way to start a meal, or have as a snack is bruschetta topped with chopped fresh ripe tomatoes and basil.
Crostini, small rounds, squares, or triangles, of thinly sliced bread, lightly buttered, baked in the oven then topped with a variety of delicious spreads such as an black olives, truffles, tomato, melted cheese with a bit of anchovy, a slice of tomato drizzled, and the classic, chicken liver paté.
Frittata, (omelet), a wonderful antipasto as it can be prepared ahead of time, cut into small triangles and served at room temperature.
Supermarkets carry a range of antipasti in cans, jars or the delicatessen section, with many spreads for crostini: pickles, cold meats or seafood salad.
An attractively arranged platter with a variety of cold meats (salamis, mortadella, cappocollo, bresaola, coppa, prosciutto, olives, capers, and pickled vegetables accompanied by a basket of crusty Italian is another.
Let your imagination be your guide.



Copyright © 2000,2012 e-rcps.com, All Rights Reserved