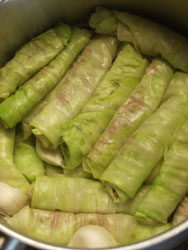 STUFFED CABBAGE RECIPE
Malfouf Mahshi
Middle East
 +Lo Chef.
Prep:

35 min

; Cook:

60 min

; Total Time:

1 hr 35 min




Challenging


Yield:

Serves 4 - 6
Pick your cabbage carefully - you want young, tender flexible leaves with few veins.
INGREDIENTS:
1 or more large cabbages - see preparation
1 cup short grain rice
1/2 lb. minced or ground beef or lamb
1/4 cup lemon juice (as desired)
4 TBSP butter
1 1/2 tsp salt
1 cup water
1 head garlic, cloves separated with loose paper or skin removed (more to taste)
a dash of ground paprika
a dash of ground cinnamon
a dash of ground cumin OR 1/4 - 1/2 tsp allspice or bhar hellou
Large pot to blanch cabbage leaves, covered casserole, saucepan or stewpot to cook stuffed leaves.


METHOD:
YOU will need a large pot with several inches of boiling water to blanch the cabbage leaves.
CHOOSING the cabbage is important, as you have to be able to get enough leaf area to actually hold the stuffing, rolled. Large, loose-leaf cabbages are best; you might need more than one cabbage if the leaves are tightly wrapped, as you will only be able to use the outermost leaves.
GENTLY peel the leaves from the cabbage. Lay them flat, and cut the largest area you can without large veins.
WHEN your pot is boiling blanch some leaves for few minutes. Remove with a slotted spoon and put in cold water then put in a colander. Repeat same procedure with remaining leaves.
LINE bottom of cooking pot with bones (if you have bought lamb shoulder and cut the meat from the bone) or with a thick layer of cabbage leaves.
MIX rice with minced meat, spices and salt. Place cabbage leaf, shiny side down, on a work surface.
PLACE crosswise about 1 TBS of stuffing (depending on the size of leaf), and fold ends, roll tightly. Place seam down in cooking pot, packing tightly together. Place several cloves of garlic between each layer.
REPEAT procedure with remaining leaves. You will want about ten 'mahshi' per person.
PLACE 4 TBSP butter in saucepan. Invert a heavy plate on top to keep rolls in shape during cooking.
COVER leaves with water, bring to a boil then reduce to low simmer and cover. Simmer very gently for two hours or until tender.
Serve hot.
Lebanese Cookbook:



Copyright © 2000,2012 e-rcps.com, All Rights Reserved
Recipes
Basics
Glossary
FAQ
Cookbooks
Tell a friend

Cooking Classes
Cooking classes in the U.S. and Italy.
---
Gastronomy Tours
Tour Wine & Olive oil country and other regions.
---
Links
Links to other sites of related interest.
---
Sources
Where to buy special ingredients and utensils.
---
Ask the Chef
If you don't find your recipe.
---