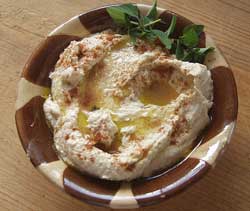 HUMMUS RECIPE
Lebanon
 +Lo Chef.
Prep:

15 min

; Total Time:

15 min


Quick & Easy
Yield:
Serves 4 - 6
I lay out all the ingredients for Samantha, our five-year old grand daughter and she prepares the hummus, tasting all the while till desired taste and consistency is achieved.
INGREDIENTS:
Small can (14 1/2 oz) hummus ("chickpeas";"garbanzo beans"; "ceci beans")
1/3 cup tahini (sesame paste)
1/2 cups lemon juice, more or less to taste
1 1/2 tsp salt, more or less to taste
1 clove garlic - more to taste
1 - 2 TBSP reserved liquid
1/4 tsp cummin (Egyptian style, optional)
2 TBSP chopped parsley (garnish)
Food processor, or some way of mashing the chickpeas and mixing in the other ingredients.
METHOD:
DRAIN hummus, reserving liquid.
PEEL and chop garlic.
PUT hummus, garlic, tahini, lemon juice and salt in food processor, process to thick paste.
TASTE. From here on, your tastebuds dictate the ingredients. Add tahini, salt, lemon juice until mixture suits your taste. Slowly add (tsp) reserved liquid if too dry.
GARNISH with parsley (optional) and serve with pita or arabic bread, or crackers.
Lebanese Cookbook:

Copyright © 2000,2012 e-rcps.com, All Rights Reserved