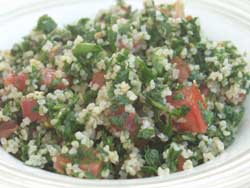 TABOULI; TABBOULEH SALAD RECIPE
Lebanon, Palestine
 +Lo Chef.
Prep:

20 min

Total time:

20 min


Yield:

4 - 6 servings
Delicious Middle Eastern salad or appetizer.
INGREDIENTS:
3 cups of finely chopped flat-leaf parsley
1/2 cup of finely chopped fresh mint
4 or 5 finely chopped spring onions (with the green parts)
4 ripe, medium size tomatoes, chopped into small cubes
1 cup of medium burghul (cracked wheat)
1/2 tsp allspice
1/2 cup lemon juice
1/2 jalapeno pepper, de-seeded, chopped fine (optional)
5 TBS good olive oil
Salt and Pepper
Chef's knife, chopping board, mixing bowl.
METHOD:
RINSE burghul several times and then soak in cold water for about twenty minutes.
CHOP the tomatoes (small dice).
CLEAN the parsley and remove the large stems (you want mostly leaves). Chop fine.
PUT the burghul in a sieve to drain.
TRIM the spring onions, and chop them into 1/4" lengths.
PUT the drained burghul and tomato in a large mixing or serving bowl. Add salt, pepper, allspice, lemon juice, olive oil, mint, parsley, and optional minced jalapeno.
TASTE for seasoning. If too dry, you can add additional lemon juice.
TOSS well. Tabouli benefits from resting - you can cover the bowl with plastic wrap and leave in the refrigerator for a few hours or over night, tossing occasionally.
SERVE with cabbage or lettuce leaves - scoop some tabouli into a leaf and enjoy!
Lebanese Cookbook:



Copyright © 2000,2012 e-rcps.com, All Rights Reserved
Recipes
Basics
Glossary
FAQ
Cookbooks
Tell a friend

Cooking Classes
Cooking classes in the U.S. and Italy.
---
Gastronomy Tours
Tour Wine & Olive oil country and other regions.
---
Links
Links to other sites of related interest.
---
Sources
Where to buy special ingredients and utensils.
---
Ask the Chef
If you don't find your recipe.
---