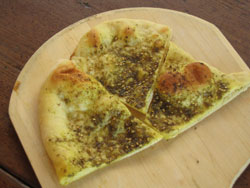 LEBANESE PIZZA RECIPE
Manaeesh
Lebanon
 +Lo Chef.
Prep:

3 hours or overnight, kneeding time


Cook:

6 - 12 mins


Total Time:

3 Hrs 30 Min


Yield:

1 - 2 manaeesh, depending on size.
We often make this for Sunday mornings, especially if family is visiting - our young grandaughters love rolling out the pizzas and the ecstatic Mmmmmmmms that follow as we bite into the warm and fragrant spicy pizza. I bought a bread machine to kneed dough with, cheaper than a mixer with a dough hook.

BUT everyone is asleep on Sunday morning, so to minimize early morning noise, we make the dough the night before, slip it in the refrigerator, then take it out about 3 hours before we put in on the table.


INGREDIENTS:

1 1/2 cups (200 g) unbleached all-purpose flour
1 teaspoon salt
1 tsp yeast, dissolved in
1 cup lukewarm water
1 tablespoon olive oil to coat rising bowl
FOR THE TOPPING
Zaatar (Middle Eastern spice mix) *
Olive oil
Spatula and mixing bowl, or stand mixer with dough hook, or food processor, or bread machine. Rising bowl or pail. Pizza stone.


METHOD:
BY HAND

IN Italy, flour is shaped as a small mountain, a well is made, ingredients gathered and mixed on a floured surface. We use a large mixing bowl and a spatula, mixing the dry ingredients well before adding the liquids, then blending to a point that you can turn the mixture out on a floured surface and kneed for about 8 minutes, until dough is smooth and elastic.

BY MACHINE

PREPARE dough normally, kneed until smooth and elastic. THEN
PLACE dough in lightly oiled bowl or pail large enough to allow the dough to more than double in size (I use a small painters' pail with verticle sides to easily guage volume change . Cover pail or bowl with plastic wrap.
IF using same day, allow dough to rise until doubled in bulk (about 3 hours or more).
FOR following day, put container in the refrigerator and take out in the morning about 3 hours before you expect to put menaeesh on the table (2 hours additional rise out of fridge, about 45 minutes for oven preheat, pizza-roll out and second rise).
ABOUT 45 minutes before you want to eat your menaeesh, PREHEAT oven, with pizza stone on bottom oven rack with no racks above it, to 450 degrees F. Divide dough into balls (large tennis balls) and roll out to desired thickness. Loaves should rise slight while waiting for oven.
WHEN oven is hot, place rounds on a peel (lightly flour or granola to make sure the dough will slide off your peel and onto the hot stone. SHAKE the peel to make sure that pizza will slide off onto the hot stone at the critical moment.
BAKE for about 4 minutes, check the pizza and rotate about 180 degrees if more baking necessary... pizza should be risen and have a few dark brown spots where well cooked.
ALLOW to cool, cut into serving portions and serve.
You can order zaatar here...
Lebanese Cookbook:



Copyright © 2000,2012 e-rcps.com, All Rights Reserved
Recipes
Basics
Glossary
FAQ
Cookbooks
Tell a friend

Cooking Classes
Cooking classes in the U.S. and Italy.
---
Gastronomy Tours
Tour Wine & Olive oil country and other regions.
---
Links
Links to other sites of related interest.
---
Sources
Where to buy special ingredients and utensils.
---
Ask the Chef
If you don't find your recipe.
---