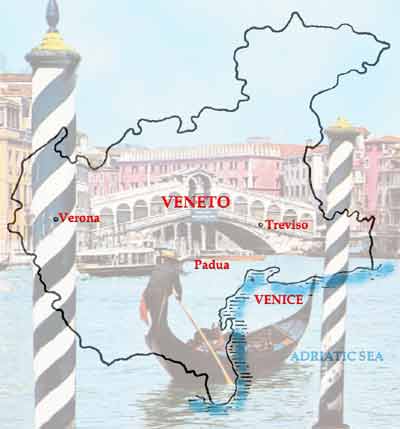 RECIPES FROM THE VENETO REGION
Veneto

The 'Veneto' is comprised of the vast alluvial Po Plain and its tributaries which are overlooked in the north by the foothills of the Alps, and by the western massifs of the Dolomites.
It is an essentially agricultural region growing wheat, maize, mulberry bushes, olive, fruit trees and vines. The industrial sector includes oil refineries, smelting works and chemical plants which are concentrated in the vicinity of Veniceat Mestre-Marghera, as well as a large production of hydro-electric energy in the valleys of the Pre-Alps. The latter supplies the textile industry.
The landscape is punctuated by two small volcanic groups, the Berici Mountains south of Vicenza and the Euganean Hills near Padua. The slopes of these blackish heights carry vines, peach orchards and are the site of hot springs.
In the Po delta (Polesina) and that of the Adige lie improverished, grandiose and desolate areas, subject to river floods. Following reclamation certain areas are farmed on an industrial scale for wheat and sugar beet.
The coastline takes the form of lagoons (lido) separated from the sea by spits of sand pierced by gaps (porti).Venice, whose industrial sector is continually growing, is built on piles in one of these lagoons.

As in the Po Plain, the people eat polenta, a form of semolina made from maize, sometimes accompanied by little birds, risi e bisi (rice and peas), and fegato alla veneziana (calf's liver fried with onions). The shell-fish, eels and dried cod (baccala) are excellent. The best wines come from the district of Verona; Valpolicella and Bardolino, rose' or red, perfumed and slightly sparkling, and Soave, which is white and strong.

From the 'Michelin Guide to Italy'
RECIPES
Soup

Risotto




Pasta

Main