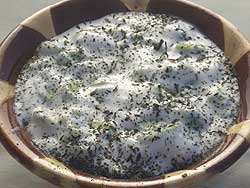 CUCUMBER AND YOGHURT SALAD RECIPE
Laban khyar
Lebanon
 +Lo Chef.


10 min - Easy

; Total Time:

10 min


Yield:

Serves 4




Quick & Easy; Vegetarian
Refreshing summer salad/side dish - can be a light meal in itself.
INGREDIENTS:
3 medium cucumbers
2 cups yoghurt (laban)
1 clove garlic, peeled and crushed
1 tsp salt, more to taste
fresh mint leaves, chopped fine or 2 TBSP dried mint, crushed - as garnish
Non-reactive mixing bowl.
METHOD:
PEEL cucumber and cut into thin round slices, or dice in 1/2 " cubes. Set aside.
IF using fresh mint, remove leaves from plant and chop fine. Set aside.
MASH garlic with salt. Add it to the yoghurt. Add the cucumbers. Mix thoroughly.
SERVE cold in a shallow bowl and garnish with mint. Can be prepared ahead and refrigerated in covered container.
Lebanese Cookbook:



Copyright © 2000,2012 e-rcps.com, All Rights Reserved
Recipes
Basics
Glossary
FAQ
Cookbooks
Tell a friend

Cooking Classes
Cooking classes in the U.S. and Italy.
---
Gastronomy Tours
Tour Wine & Olive oil country and other regions.
---
Links
Links to other sites of related interest.
---
Sources
Where to buy special ingredients and utensils.
---
Ask the Chef
If you don't find your recipe.
---