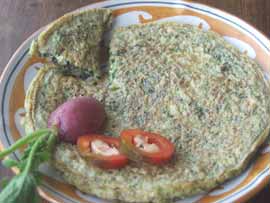 'AGEE - LEBANESE OMLETTE
 +Lo Chef.

Prep:
10 min

Cook:
6 min

Total Time:
16 min
Tasty, easy to make; you can also take of a picnic as these omlettes are good cold.
4 eggs
2 TBSP good olive oil
2 tsp flour
1 1/2 TBSP fresh mint finely chopped (or 3/4 TBSP dry)
3 TBSP fresh parsley, finely chopped
1 small onion, finely chopped (about 2 TBSP)
2 TBSP water
1/2 tsp bhar helou OR 1/4 tsp allspice
1/2 tsp salt
few grinds of black pepper
Non-stick skillet, mixing bowl.
LIGHTLY beat the eggs, add and beat in flour, then add and mix in water.
ADD rest of ingredients and mix well.
HEAT 1/2 olive oil in non stick skillet over medium heat. Add ingredients and reduce heat to low. Cook until omlette begins to firm, 2 - 3 mintues. Add rest of oil, flip and cook for an additional 2 - 3 minutes. Omlette should be lightly browned on both sides.
SERVE alone, or with pita bread and other 'mezze' plates.
Lebanese Cookbook:



Copyright © 2000,2012 e-rcps.com, All Rights Reserved